The first step towards getting your driver's license!
When it comes to earning your driving permit or drivers license, VenturaTrafficSchool.com is your one-stop-shop for everything teen driving. We have both online drivers ed programs and behind the wheel driving lessons to help teens get safely on their way to navigating the challenges of the road. Check it out - we have a state approved 30 hour equivalent drivers education course that you can take entirely online.

Why Online Drivers Ed?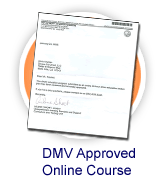 DMV Approved Drivers Ed Course
When it comes to drivers education courses, there are two choices: DMV Approved or NOT DMV Approved. With VenturaTrafficSchool.com, you are guaranteed that our online driver's education class is not only DMV approved, but actually goes above and beyond the minimum requirements needed to fulfill your 30-hour equivalent driver's education requirement.

Top Notch Customer Service
Don't be fooled by every run-of-the-mill driving school out there. We may offer low driver's ed price, but our customer support staff is the best around. We have a fully loaded friendly and knowledgeable staff ready to assist you. And don't worry, we don't hide our phone number so you can never get a hold of us. You can contact us by phone or email - we'll be happy to assist you in a friendly and timely manner!

Free Practice DMV Tests
Every student who takes our online an added edge when it comes to passing their permit test: UNLIMITED DMV PRACTICE TESTS... for FREE! That's right, our practice DMV quiz module delivers an unlimited number of unique practice tests designed to help you succeed at the DMV when you take your written exam.

Our Course is Self Paced
With our online driver's ed course, getting your permit has never been easier. You are allowed to take as little or as much time as you need to finish. Want to take the course all in a series of days? No problem. Are you busy with school, sports, or other extra curricular activities? Not an issue - you can take the course in sections over several weeks or even months. It's entirely up to you how long your online driver education experience will take!



Choose a Proven Provider
VenturaTrafficSchool.com has teamed up with the leader in the Online Drivers Ed business: www.DriversEdDirect.com. When you choose Ventura TrafficSchool, you get on line Drivers Ed for cheap along with the DriversEdDirect.com guarantee - the best DMV approved online drivers education courses available - now that's Drivers Ed you can count on!